Campaign Kickoff Breakfast 2019
United Way: United We Rock!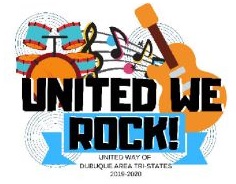 United Way of the Dubuque Tri-States is hosting its annual campaign kick-off breakfast, sponsored by the Diamond Jo Casino, and is sure to be a great way to start your morning. The event is open to the public and will take place on Thursday, September 12, 2019 from 7:30 a.m. - 9:00 a.m. at the Diamond Jo Casino - Harbor Room. This year's Campaign Co-Chairs are Jan Powers of Communication and Gary, recently retired from US Bank, and currently the Voice of the Hawkeyes. Both community leaders are excited to spearhead efforts in engaging the community in supporting United Way, which helped impace nearly 40,000 local lives last year.
"We've put together a fun and informative program that will briefly showcase ways community members and local business partners can get involved to support health, education, and income locally," shares Katie Weidemann, Northeast Iowa Community College's Director of External Affairs, and this year's emcee for the campaign kick-off. Katie will faciliate interviews with Campaign Co-Chairs, business leaders, and funded partners who are joining together to share their perspective of what Living UNITED has meant to them.
"Change doesn't happen alone, and this kickcfi is one way to encourage everyone to get engaged in creating change to improve our community. Everyone plays a vital role in helping our community succeed, including our funded partners, our business partnerships, and our volunteers," shares Danielle Peterson, President and CEO of United Way. "Our United Way has changed quite a bit over our 91 years here and it's important for the broader community to know about the great things that happen because of the passion and mission behind our work. United We Rock is our theme and we have some exciting things planned that tie into sharing our message and the resources we support in a broader way."
United Way of Dubuque Area Tri-States serves a 10-county service area covering parts of Iowa, Illinois and Wisconsin. In recent years, United Way has evolved to embrace a community impact model, shitting from a traditional model of funding organizations to funding local programs that have applied for and received funding, impacting health, education and income. All United Way funded programs demonstrate how they align to meet and improve community needs and collaborate with other nonprofits, all working together to achieve community wide outcomes. Examples of issues impacted through United Way are brain health, poverty, food scarcity, homelessness, and more. This year, United Way funds 35 programs through 24 nonprofit organizations.
If you are interested in helping with this goal or would like to know more, please contact admin@dbqunitedway.org