Volun-Beer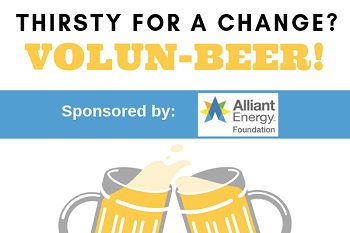 United Way focuses on health, education, and income and we are hosting Volun-Beer events specific to these areas. During the events, we will share a brief overview of a community need and how United Way supports that locally. Volunteers will package items that will be used to address a need in the community. They will also network and create relationships with other like-minded individuals.

Our Volun-beer event packs will consist of:
Tuesday, October 15, 2019

Education (literacy kits to encourage early reading in the home for families)
Dimensional Brewing Company | 67 Main Street Dubuque, IA 52001

Tuesday, November 19, 2019

Income (basic needs kits for those in need)
Stone Cliff Winery | 600 Star Brewery Dr. Suite 100 | Dubuque, IA 52001
Interested? Register HERE!
Volun-Beer Sponsorships
(Limited Availability)
Volun-Beer is an after-hour opportunity for community members to learn and work with other community members and help create kits for our target areas. Kits will be distributed to those in need through our numerous local nonprofit partnerships. Networking opportunities are created through this casual environment as we partner with local breweries and establishments to host each event.
Heath Kit Build | $1,000
30 volunteers to pack 100 kits
Education Kit Build | $1,000
30 Volunteers to pack 100 kits
Income Kit Build | $1,000
30 Volunteers to pack 100 kits
All sponsorships include: Logo on marketing materials, social media, and monthly newsletter. Five tickets for employees to attend the Volun-Beer event will also be included with the sponsorship.
If you're interested in sponsoring a Volun-Beer, email jessica.bleile@dbqunitedway.org